The Buttoned Capster is the improved version from our popular Capster that has served so many Muslimah in preserving and preventing their hair from exposure during swimming or Aqua activities.   It is even comfortable enough to wear during your land activities as the fabric is not thick. 
Specially designed so that you don't need to tuck it into your swimtop when you dive into and have fun in the water, the added feature of adjustable buttons at the waist ensures that whether you are curvy or straight, the straps can be adjusted to fit you. 
 Both Models are wearing Size M.
Measurements :-
SIZE

STANDARD

(suitable up to L Size)

PLUS

(suitable up to 4 XL)

FACE

6.1" x 3.5"
6.3" x  3.5"

SHOULDER

16"
21.5"

WAIST (Adjustable straps)

31" to 38"
38" to 48"
Customer Reviews
Buttoned Capster
Simply loving it. It keeps my aurah intact while swimming. Thank you Coach for making the alteration to the waist. Appreciate it!
03/19/2021
Hasleen A.

Singapore
Button Capster
Love how the buttoned capster covers the chest area and does not move all over when I swim - so i don't have to adjust all the time. I also like that it is light weight which does not add to the drag during swimming. So far, i only used it for swimming, will try to use it for my hiking and gym exercises.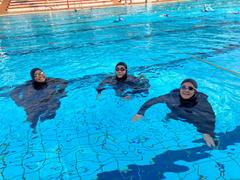 03/16/2021
Jahan B.

Singapore
Capster to the rescue!
I was looking for a hijab that I could wear for my fitness activities like hikes/brisk walks and cycling. Priority is aurat coverage which I found in this Buttoned Capster. I love the overall look and feel of the capster when I exercise. It does not restrict the movements when I exercise. There is no flapping of fabric. The style and cut are able to cover my chest area when I move or stretch. The fabric is light and works well against the heat of the sun. The added UPF50 means my skin is protected from the UV rays as well. It's not just comfortable, it's also easy to care for - just hand wash it with light detergent and indoor drying. That's all! The use of recycled nylon is a plus as it's eco-friendly. I believe it is the responsibility of each person to take care of the environment though how small the act can be. I understand the repercussions of not doing anything to help the environment too.